The Vessel: Tiki XIV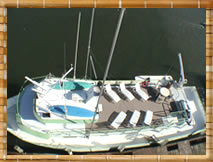 Tiki Adventures operates aboard the Tiki XIV, which is an 80 foot steel trawler with comfort and functionality as the core principles of design. The Tiki's 5 staterooms below offer traveling capacity of up to 12 guests. Four of the custom interior cabins sleep 2 and one cabin sleeps 4. On top, 2 spacious decks beckon you to take in the views of unspoiled beaches, marine life at play, and spectacular surf and sunsets.
The custom built 17 foot Carolina Skiff swings off the deck to take you to remote areas of the beach accessible only by boat, or around the point to catch the wind just right on some world-class uncrowded waves or brilliant diving sites.
On land you have the diversity of the tranquil secluded beaches by day or the eclectic variety of the island nightlife. Not to mention beach games and bonfires.
There is an extraordinary amount of sea life in the Caribbean that is awesome to observe. The view of the shoreline from the Tiki at daybreak or at sunset is breath taking and will not be forgotten!
We have two ocean kayaks aboard the Tiki that can offer delightful experiences. Kayaking can be an excellent way to get away from it all and observe sea-life undisturbed in its natural state. For the thrill seeker, the ocean kayaks are great to take into the surf when the swell is small and catch some unforgettable rides. Light tackle fishing off of the ocean kayaks can also be an experience to remember, especially if you hook up on a 'big one'.
In the Caribbean tropical fish are abundant and many species of sea life can be observed up close and personal. Whales migrating from the North Atlantic can be observed in the waters around the Virgin Islands (roughly December through March) the humpback whale being the most popular.

We have a full compliment of snorkeling gear available, but recommend that you bring your own. There are many beautiful places to snorkel and dive throughout the Caribbean. We have an air compressor aboard and a full compliment of dive gear (10 sets of gear & 20 tanks) available for our dive charters, but if you have some personal equipment that you favor you are welcome to bring it.
AMENITIES INCLUDE:



Click to popup the Tiki XIV layout

- 4 Double guest cabins with lavatory's and shower's
- 1 cabin sleeping four
- Bed linens / pillows
- 3 Full time crew members
- 3 Meals a day and snacks
- TV, VCR, DVD player
- Docking fees and local tax's
- Ship to shore launch
- 2 Ocean kayaks
- Wave runner for Tow-ins and Emergency Rescue
- Full compliment of snorkeling equipment
- Full compliment of dive gear for our dive charters
- Air compressor
WHAT TO BRING:
* Passport (Color photocopies are always a good idea)
* Snorkeling gear
* Beach towels
* Surfboards
* Sunscreen
* Personal necessities, ex. shampoo, hairbrushes, etc.
* Hiking shoes and a pair of jeans for those who enjoy hiking
* Hats and sunglasses for protection from the sun
* If there is anything you can't truly be without, bring it!
We have prepared a complete packing list for the trip.